Ahead of Arsenal's final Champions League group game, Jonas Eidevall has admitted Vivianne Miedema's injury does change his January transfer plans "a little bit".
The striker was stretchered off in last Thursday's 1-0 defeat to Lyon after rupturing her ACL, joining fellow forward Beth Mead, who also suffered the same injury against Manchester United in the WSL three weeks ago.
It not only continues to raise the question of why ACL injuries are so common in the women's game but also how it will affect Arsenal's transfer plans with the January window opening in 12 days' time.
When asked if Miedema's recent absence will have an impact, Eidevall replied: "A little bit. It does make the need for us to be more active in the January transfer window, of course. I hope we can be active, but it's about finding the right players.
"And we have to take into consideration that if we succeed in all the competitions, then we could end up playing 26 matches from January to May.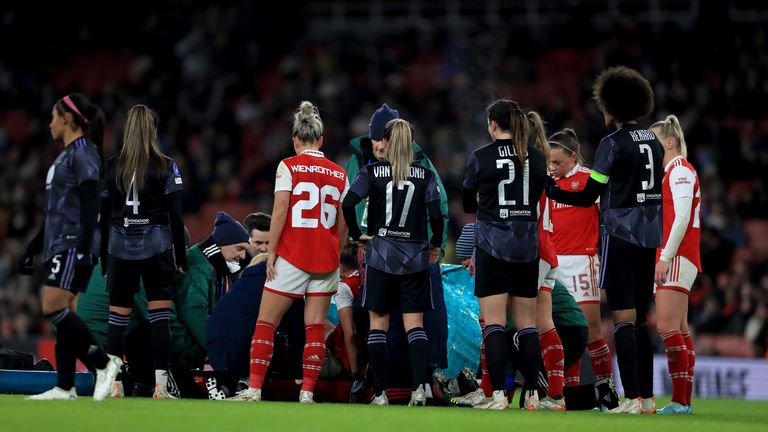 "So you need to have a squad that can handle that in a pretty limited amount of time. It's an important transfer window for us.
"When you are looking at things in the shorter term, sometimes we have to see what's also available and the timing of that. Sometimes, I have to adapt my ideas as well, but of course, whenever we can have a long-term target, when we feel there is someone who can contribute over many seasons to Arsenal, that is a priority.
"But the most important thing is we have a really competitive squad here in January so we can go and compete in all the competitions that we take part in."
Some have pointed to an increasingly hectic playing schedule in women's football as a possible contributing factor behind recent serious knee injuries.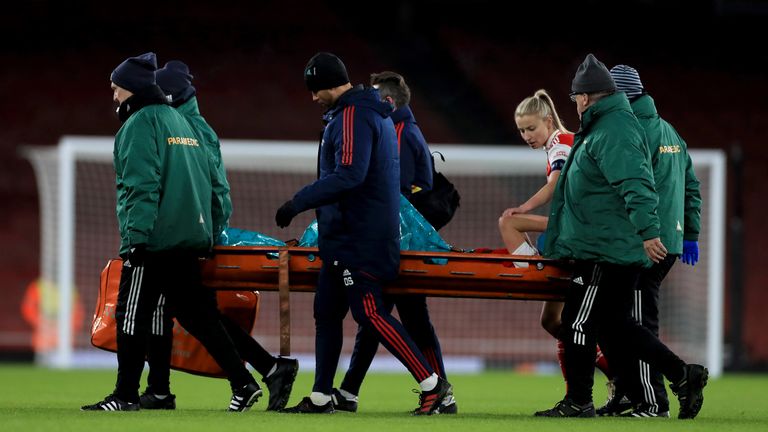 Last week, FIFA rejected recent requests from some international coaches to increase the squad size at the Women's World Cup from 23 players to 26 players – as men's teams were allowed in the recent tournament in Qatar.
Discussing the topic, Eidevall said: "I think the problem is the scheduling. I don't think it's solved with 23 or 26 players in the squad.
"The problem is when you have so many tournaments in a row over the summers, the players don't get any time off. We finish playing at the end of May, you have a competition in July or maybe August and what do the national teams do during the summer? Of course, they say we need to prepare for the tournament so they bring the players in after they've had two weeks' vacation, then the players are with the national team for six weeks before the tournament.
A host of professionals discuss the difficulties of dealing with and recovering from an ACL injury. Plus, Gary Lewin, head of female performance services at Arsenal, explains the science behind the potentially career-threatening injury
"Then afterwards club football needs to be played almost straight away – you saw how quickly Man City needed to play competitive games after the Euros against Real Madrid in the Champions League qualifiers, so the players don't get any time off.
"So you can give them time off before the tournaments or schedule the tournaments earlier in the summer, then it would allow having a gap after. I can't really see that it's that hard.
"It's a human need to have holidays and vacations in order to refresh. That's what the scheduling needs to look at so you can guarantee the players get that time off and then I think we would be fine."
'We must be disciplined against Zurich'
Women's Champions League – how Group C stands
 

| | | | |
| --- | --- | --- | --- |
| Team | Matches played | Goal difference | Points |
| Arsenal | 5 | 6 | 10 |
| Lyon | 5 | 4 | 10 |
| Juventus | 5 | 6 | 8 |
| Zurich | 5 | -16 | 0 |
Arsenal have already qualified for the Champions League quarter-finals and head into Wednesday's game as Group C leaders.
They will need to beat Zurich to be assured of top spot and a possible easier draw in the last eight, but Eidevall has also warned his side to be disciplined in Switzerland.
"It's very important [to finish top of the group], but there are a lot of things that are important," he added.
"When you are in a competition, you want to have as many advantages as possible when you reach the quarter-final stage. There are going to be eight brilliant teams here, but of course, we would like to go through as number one [in the group] if possible.
Group C permutations: Arsenal through, Lyon and Juve to battle for qualification
Arsenal are through to the quarter-finals. They will finish top if they beat Zurich, or if they draw and Lyon do not beat Juventus.
Lyon will go through if they avoid defeat against Juventus. They will finish first if they win and Arsenal do not, or if they draw and Arsenal lose.
Juventus will go through if they beat Lyon. Juventus will finish first if they win and Arsenal lose.
Zurich are already knocked out of the Champions League.
"It's also important not to come to the quarter-finals with too many yellow cards. We experienced that against Wolfsburg last season. It's difficult for us to come into these games here with so many players getting close to suspensions, we have to manage that part much better and have much discipline as players, but also me – no yellow cards this season.
"That is as important as not conceding tomorrow. First, we need to win, then we need to keep where we are with yellow cards and then we will be heading to the quarter-finals with very good conditions."
Arsenal defender Leah Williamson also believes that Arsenal must play the best teams if they are to win the Champions League and has backed the Gunners to bounce back after a difficult evening against Lyon.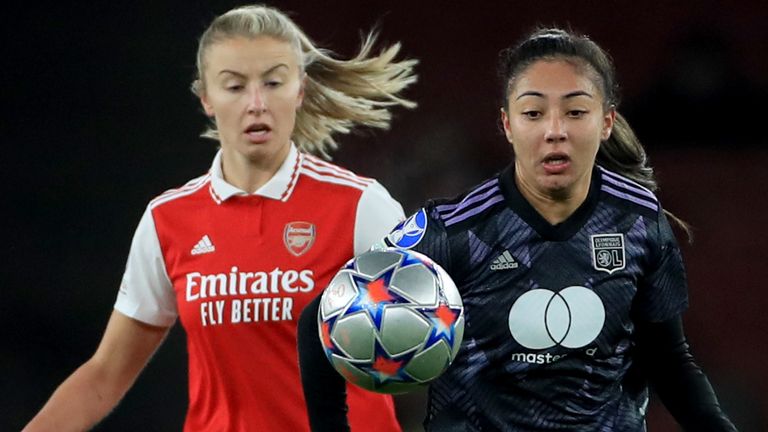 She said: "You have to beat the best to win a tournament. You want to progress as far as you can go, we haven't got past the quarter-finals for a while now, so you want to progress further.
"Unless you win it, which you can't do without beating those top teams, you've come away with less than what you wanted. It's going to be a tough draw either way.
"After something like that [Miedema's injury] happens in a game, it does turn it a little bit flat, that's how we felt when we came off. But ultimately, we played some good football.
"We've gone straight back to the training pitch, everybody's been recovering and ready to go again just like always, expect this one is important for us to win. You saw the way we bounced back after defeat to Man Utd in the league, it's the same in this competition as well. We intend to leave nothing out there."